This website is the property of Mountain Meadow Ranch - Herd Name MMRANCH. Please report issues to webmaster rmpowell@betstco.com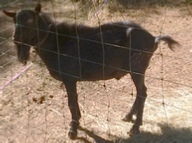 We are not sure why we kept Asher and used him for breeding other than he is not black but a bay. The reddish underlying hair gives him a red cast in the sunlight.
Some have told me that they call this a muddy black. In an case we registered him as Dark bay with correct markings.
In 2015 season he will provide cover for 9 red bay adults and 4 red bay & 1 black younglings. Due to life issues I sold most of the our bred does in the spring before birthing. Of the does I retained he sired 7 which produced 13 kids with 7 being polled. One doe was black. This is same % of black as the previous year when I had no dark bays bucks or black does.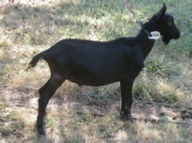 To the purest that are upset by our action we say get over it. The American Oberhasli has so many in bred other lines that I am surprised sometimes that the color and markings stay as true as they do.
Plus I see no reason why we should not allow full black bucks since we allow full black does. Where is the logic?
I do not know if full blacks shows up in the Purebred lines, but I know that at least some Purebred have more than a little black. See the picture below of Rachelsie Notte Sento. I also know that tan shows up in Purebred lines. My Purebred buck has more tan in his color than my Americans have. Plus he has produced a nice tan American buck. Picture below
Yes I accept that there is a preferred Oberhasli color, but I see no reason why other shades are shunned.